About I Get It Chiropractic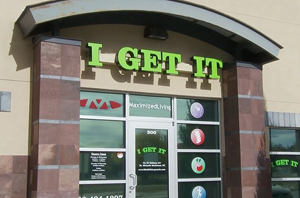 I Get It Chiropractic opened in 2006 to give specific, scientific chiropractic care to Westminster and the surrounding communities. We're here to help your entire family, because families that get healthy together stay together.
Inspired to Share Chiropractic
Our practice name comes from a conversation between Dr. RJ and Dr. Michelle. After a long battle with illnesses, (Dr. RJ sought something different. He found Dr. Chestnut who helped save his life. By educating him on what Chiropractic is, and what it can do and how to eat, move and think well )he looked over at Dr. Michelle and said "I get it." There, the idea for I Get It Chiropractic was born.
We want to give others a place to come and understand the true definition of health. Health is the body functioning and healing at 100% and nothing more! If the body is functioning less than 100%, it is developing sickness and dis-ease. We focus on the one cause of dis-ease, being the body's inability to adapt caused by subluxation. We are the only doctors educated and certified in the area of subluxation. We use scientific specific corrective chiropractic care specializing in the atlas to find and correct the subluxation restoring the one cure, the body's ability to heal itself.
By removing subluxation, specifically the Atlas, we allow the entire body to get signals from the brain, restore the full function of the body and let healing take place. We will help you to take responsibility for your own health so you don't have to fear sickness.
Our philosophy is to find the true cause and remove the interference, thus allowing your body to work at 100%. We deliver real, lasting results through simple, proven life-saving solutions. We'll empower you to become the doctor in your own health, allowing you to make decisions that will be fundamental in achieving life-transforming results.
The power that made your body heals your body. We don't treat symptoms but find the true cause of your issues or dis-ease. Your initial visit might be for your pain or other symptoms. We'll help educate you on the importance of correcting the problem and not just treating your symptoms.
Once you get past a symptom-based mindset, you will understand the importance of maintaining your spine and nervous system to achieve true health. If you are expressing a symptom, your body has gone from 100% function of your tissues, cells and organs down to 60%. By treating the symptoms only, you may experience permanent, irreversible damage and sometimes-even worse.
We are specialists in corrective chiropractic care focused on the atlas and we are passionate about reaching the unreached. You will see amazing, life-transforming results from our specific scientific upper cervical chiropractic care and our atmosphere will make you look forward to your next visit.
We exist to point people to their greatness.
Our Mission
To speak the truth, live the truth and teach the truth about chiropractic to every man, woman and child; to check them for subluxation and adjust them when subluxated so they can reach their potential and fulfill the purpose that God has given them. We want YOU to be your greatest. You are somebody's possible and without your health nothing is possible.
Dr. RJ is a Christian and proud to be guided by his faith. As he says, "This is God's office. I just work for Him." His role is a facilitator of your body's innate natural healing abilities.
MEET THE DOCTORS
The Benefits of Care Are Seemingly Limitless
Even if you've been to a chiropractor before, you're going to experience something completely new with us. How is your atlas? People seek our care who have serious health problems that you may not expect would respond to chiropractic. One case involved a man with multiple sclerosis who was on 13 medications. After completing a spinal correction program, he got off his medications. Miraculously, the MS lesions in his brain healed and he no longer has that diagnosis.
We've seen patients with tumors that went away. Couples who were struggling to conceive that have successful pregnancies. If you're from another state, fly in for 2-3 weeks of intensive care -we'll get you on the right path, then send you home with a referral to a chiropractor in your area who can maintain your results.
Get Started Today
Are you excited to begin your journey with us? We can't wait to meet you. Contact our chiropractic care center today to book an appointment!

About I Get It Chiropractic | (303) 424-1207